Is basement remodelling worth the effort?
What's one very good reason to begin basement remodelling? Ask consultant cameron@basement-spaces.com. Maybe it's as simple as admitting that you enjoy doing it because it can be a rewarding and fulfilling experience. All right. So maybe it's not so much fun when one is in the midst of the actual work.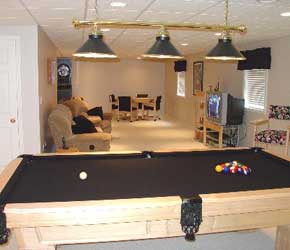 That part might be frustrating, expensive, even painful. Your reward will come when you can relax, admire your handiwork and use your new living space after your basement remodelling.
But, is it really worth it, you still wonder.
Here are some considerations that can help you answer that question.
Look down the road at your needs for space. Will you soon have an 'empty nest' or are you expecting a new child? What about the future costs of carrying and maintaining your home? If your basement remodelling plans increase your debt load, will that debt service remain affordable in the event of an employment shake-up or other income interruption?
Think about your neighbourhood and what property values are likely to do. Are you in an area where market conditions are hot, or not? If you plan on spending thousands of dollars on basement remodelling, will you recover those funds when you want to sell?
Comfort, affordability and value are the most important parts of the overall equation, when you are trying to puzzle out an answer to the question, 'is basement remodelling worth it?'
CONTACT US AT BASEMENT SPACES
We are an entirely online business, you can contact us at:
Consultant
cameron@basement-spaces.com