An insulated subfloor is essentially the 'floor-below-the floor'; it is perhaps one of the easiest ways to lower heating bills while keeping a basement warm. Even if your floor is already heated, an insulated subfloor can help to raise the comfort level of the room. An insulated subfloor is not only good for your home, but also helps the environment by helping you to conserve energy.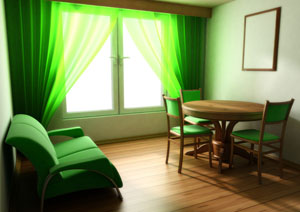 An insulated subfloor, or any for of insulation for that matter, can often serve to increase moisture problems. Before installation, it is therefore important to determine whether you need an air barrier and/or a vapor barrier to protect the insulation from moisture. To check for moisture in a basement floor, simply tape some square pieces of polyethylene plastic in different places on the floor and let them sit for 24 hours. If a damp spot is found on one of them within this time, there is too much moisture. In that case, the moisture must be attended to before even a moisture barrier or the insulated subfloor can be laid down. Luckily, some insulated subfloormanufacturers claim that their sub-floor is moisture resistant, and can act as both a sub-floor and a moisture barrier. Check out Toronto's best bathroom renovation contractor for all reno work - from additions, to remodels, to kitchens.
Insulated subfloor can be installed with many different types of finish flooring. These include (but are not limited to):
Laminate flooring
Stone flooring
Rubber flooring
Bamboo flooring
Vinyl flooring
Tile flooring
Hardwood flooring
Finally, an insulated subfloor is not only versatile when it comes to being used with finish flooring materials, but the money that it can save in heating bills and energy conservation make it a must-have for today's conscientious home owner.