Basement Remodelling Ideas
Simple basement remodelling ideas give new life to an old space
When we think of basement remodelling ideas, our minds turn to updating and refurbishing. Here are some good ideas to observe if you have a remodelling project on the go: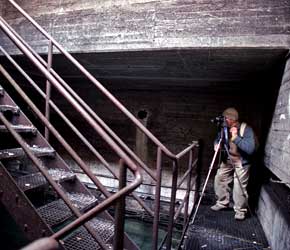 use light in reverse by providing a lack of illumination in unsightly or unfinished areas


if you rip up old carpets and padding, be sure to check underneath for signs of moisture. If dampness is evident or signs of previous dampness exist, take protective measures by installing a Modular Subfloor Finish such as the system offered by OvrX, before laying down new carpets.
Basement Tips
If the ceiling height seems low, one way to combat this aesthetically is with wallpaper borders.


a foundation wall can account for approximately 20% of heat loss


The primary concern in the basement is normally the element of moisture / infiltratation of water..


With common poured foundation walls, choices of replacement windows may be limited.


Glass block generally provides a strong solution to bringing in a source of scattered light.


To reduce the levels of moisture it may help to think of the possibilities of a dehumidier.

let in the light


use bright and dramatic colour schemes wherever possible. If you can't replace older existing furniture, give it a lift with a new slipcover and add coordinating pillows.


change your artwork
use throw rugs for variety and texture
open up the stairwell and add a banister if possible


widen existing doorways and use arches or columns to feature them


decorative glass doors add a touch of elegance
if you're considering replacing any basement windows, think about installing glass block instead. It provides good light transmission, offers aesthetic value and an extra measure of security.


old shiny, grooved paneling that has to stay for whatever reason can be updated with paint into a modern striped pattern. The uneven widths make the effect even more dramatic.
covering a wall with board or fabric can hide a myriad of sins

Let your imagination run free and be daring with your basement remodelling ideas.
No Comments