The scary truth about wet basement insulation
Before choosing the best basement insulation method for your walls and floor, check out these startling facts about moisture:
Basement Flooring Ideas and Tips
since basements are surrounded by earth that remains at a relatively constant temperature year around, they're naturally cooler in the summer than above ground rooms


ducts and plumbing may need to be relocated along walls or beams, where head-room isn't so critical


Use horizontal design elements to emphasize the width and length of the room rather than its lack of height. Set tiles in a diagonal pattern to make the room feel wider.


carpet is acceptable, but "Mexican" tiles are prime choice if you want low maintenance and durability


moisture absorption causes insulation failure and loss of r-value efficiency


a moisture level as small as four per cent, likely undetectable, can drop the thermal efficiency of insulation by as much as 60 per cent


moisture-laden building materials, such as wood, new drywall and concrete, can take some time to dry. If wetness has no escape route, it runs the risk of absorption by regular basement insulation materials


water has thermal conductivity potential that is up to 20 times greater than most insulation materials


the only way to maintain a home's new r-value is to ensure wall cavities stay dry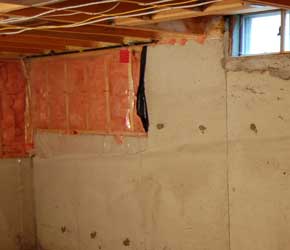 What does this information add up to? Ruined insulation that can cause a heat loss representing as much as a third of utility costs and a good case to consider using Modular Panel Barrier Systems for your basement insulation needs.
The BARRICADE™ Panel Systems by OvrX, building-code approved and engineered with air gap channels and air-tight edge gasket, provide seamless barriers against water exposure, air infiltration and excessive noise, to protect and preserve your family's comfort.
No Comments